November 24, 2020
The average began tracking the most powerful corporate stocks in 1896, and it has served as a broad measure of the market's health through 22 presidents, 24 recessions, a Great Depression and two global pandemics. Along the way, it also weathered at least two stock market crashes and innumerable rallies, corrections, bull and bear markets.

The blue chip index took just over 120 years to crack the 20,000 mark for the first time in early 2017, just after President Donald Trump took office. It needed just less than a year after that to reach the 25,000 mark on January 4, 2018.

But the last three years have been more of a roller coaster ride. The Dow and the S&P 500 both closed lower in 2018, marking the worst year for blue chip stocks in a decade.
The market bounced back with gains in 2019 but then a massive sell-off in February and March brought an end to history's longest bull market, as the coronavirus pandemic hit stateside. That plunge included the three largest one-day point drops on record in the course of only six trading days in mid-March.
Fortunately for equity investors, the bear market turned out to be short-lived. With the Federal Reserve and Congress providing economic relief, the blue chip indexes have recaptured all of their earlier losses, and then some, since that March sell-off.
With uncertainty about the outcome of the presidential election lifted and new hopes that a Covid-19 vaccine could soon be available, the market is on a roll once again. It crossed the 30,000 mark for the first time in trading Tuesday.
Here are some important stops along the Dow's road to 30,000:
Dow is formed: The first daily close, on May 26, 1896, was 40.94. The Dow did not get off to a good start, plunging 30% to an all-time low of 28.48 by August that year.
Dow 100: The Dow first closed in triple digits in January 1906. That marked an impressive rally for the average, which had hit an all-time low when Teddy Roosevelt was president. The Federal Reserve would not be created for seven more years.
Crash of 1929: The Dow fell 38 points on Oct. 28 and 31 more points the next day. That might not sound bad today, but it represented back-to-back declines of 13% and 12% of the Dow's value. They are still two of the worst one-day percentage declines in the index's history.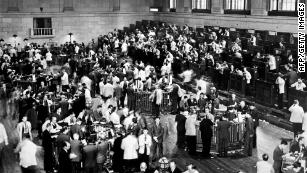 Dow 1,000: Nov. 14, 1972. Richard Nixon had just won re-election by taking 49 states. The Dow's components, which had been unchanged for 13 years, included Woolworth, Eastman Kodak and International Nickel.
Crash of 1987: On Oct. 19, the Dow plunged 508 points, a 23% drop that is still the largest one-day percentage decline in history. A week later it took an 8% plunge. But the damage was short-lived: Within a year, the Dow was back to pre-crash levels.
Dow 10,000: March 29, 1999. The "irrational exuberance" of the tech bubble was in full swing as the Dow gained 1,000 points in less than a year to hit this benchmark. It gained 1,000 more points in just the next month.
A year later, the dot-com stock bubble burst, sending the Dow down nearly 30% by September 2001.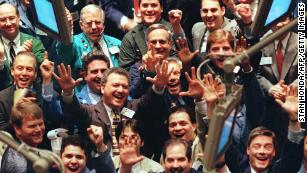 Meltdown of 2008-2009: The financial crisis caused the Dow to lose about half its value in less than a year, bottoming out to close at 6,547 on March 9, 2009. The worst day was Sept. 29, 2008, when the Dow lost what was then a record 778 points after Congress rejected a $700 billion bank bailout. The bailout was later approved.
Dow 15,000: May 7, 2013. As the economy continued to recover from the Great Recession, the Dow had one of the current bull market's strongest periods. It crossed the 15,000 mark and finished the year up 26.5%, marking the best full-year performance of the current bull market. The Dow nearly matched that in 2017, rising 25%.
Dow 20,000: January 25, 2017. The stock market had enjoyed a nice run starting on the day after the 2016 election, with the Dow gaining nearly 10% as investors looked forward to lower taxes and less regulation under the Trump administration.
Dow 25,000: Jan. 4, 2018. The passage of the Trump tax cuts, especially the lowering of the corporate tax rate in December 2017, helped feed the quick move between 20,000 and 25,000.
---
Steel Peak Wealth Management, LLC ("Steel Peak"), an SEC registered investment adviser located in California, is providing this presentation for informational purposes only. There is no guarantee that any views, projections and/or opinions expressed herein will come to pass. Investing in the stock market involves the potential for gains and the risk of loss. Information presented herein is subject to change without notice. Steel Peak may only transact business in those states in which it is notice filed or qualifies for an exemption or exclusion from notice filing requirements. This email should not be construed by any consumer and/or prospective client as Steel Peak's rendering of personalized investment advice.  Any subsequent, direct communication by Steel Peak with a prospective client shall be conducted by a representative that is either registered or qualifies for an exemption or exclusion from registration in the state where the prospective client resides. For information pertaining to the registration status of Steel Peak, please contact the United States Securities and Exchange Commission on their web site at www.adviserinfo.sec.gov. A copy of Steel Peak's current written disclosure brochure discussing Steel Peak's business operations, services, and fees is available from Steel Peak upon written request. Original article sourced from Chris Isidore, CNN Business @ https://www.cnn.com/2020/11/24/investing/dow-path-to-30000/index.html. This email contains certain forward‐looking statements which indicate future possibilities. Due to known and unknown risks, other uncertainties and factors, actual results may differ materially from the expectations portrayed in such forward‐looking statements. This email contains references to indices. Any reference to a market index is included for illustrative purposes only as it is not possible to directly invest in an index. It should not be assumed that your account performance or the volatility of any securities held in your account will correspond directly to any comparative benchmark index. This email derives information from third party sources. Although we believe these third party sources to be reliable, we make no representations as to the accuracy or completeness of any information prepared by any unaffiliated third party incorporated herein, and take no responsibility therefore.